MONKEY BUSINESS
Re-designing Money for 21st Century Primates
A talk on 15th March 2018
By John Wood for Positive Money UK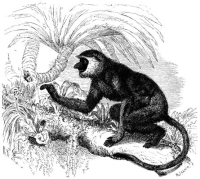 Proboscis monkey



MONKEY JOKE:


Q: Why does money trickle up, instead of down?


A: Because the wealthy can't resist adding just one more zero to their bank balance.
Humans can probably manage numbers and coins better than chimpanzees, but not much. Unit-based money is a very recent invention (probably around five thousand years ago), but our cognitive capability to grasp the nature of money probably evolved much earlier - between thirty five and a hundred thousand years ago. In some respects we are more at home with the ancient logic of mining and tool-shaping that we acquired millions of years ago. We struggle to visualise small numbers of interdependent things, yet we are addicted to surpluses, even if they exist as symbols. Fortunately, we should be able to re-design money in a way that works for our monkey-minds. If we struggle with abstract quantities, perhaps it can be more relational. After all, relations are more valuable than 'things', so maybe we can harness values and qualities in a relational currency system.
---
TO GAIN FULL ACCESS TO THE METADESIGNERS WEBSITE YOU WILL NEED TO LOG IN