Workshop
Metadesigning spaces of engagement & exchange
a closed workshop to be held at KHiO, Oslo, Norway
---
Socially Responsive Design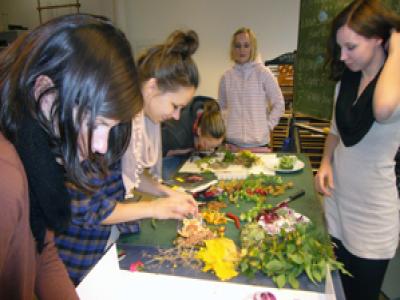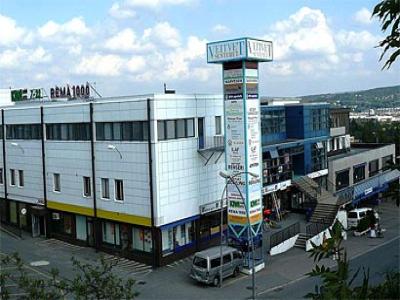 One of our previous workshops at KHiO, Oslo & the Veitvet site
This workshop will take place on 15th November – 18th November 2011. It will be co-facilitated by Hannah Jones (Department of Design, Goldsmiths, University of London), Anette Lundebye (Regents Business School, London). It is a part of a four week project based around the notion of 'Socially Responsive Design' co-ordinated by Thomas Jenkins and Sanneke Duijf (KHiO).
---
Keywords
metadesign / design tools & processes / collaborative creative practice / diversity / scalability / resilience / urban regeneration / social enterprise / Veitvet / Oslo
---
Context
The 'Metadesigning Spaces of Engagement and Exchange' project sets out to explore creative, cultural, social, economic and ecological diversities that exist within an urban retail/ pubic services/ entertainment complex going through a transition in its use in Veitvet, Oslo. The design students from KHiO Design School will be collaborating with Trude Mette Johansen from Bydel Bjerke and key stakeholders involved in the regeneration of Veitvet to collectively re-imagine this space. The project will adopt a team-based approach to mapping the site and 'bisociating' concepts and scenarios for creative, temporary pop-up enterprises that aim to foster 'diversities-of-diversities' (Wood, 2008) within this community. This 'metadesign' process requires designers engage in a set of consensual, cross-disciplinary practices. Here, 'design as planning' is replaced with 'design as seeding' (Ascott cited in Giaccardi, 2005) and 'design as problem solving' gives way to 'design as possibility seeking' (Mizuuchi, 2006) to envision a more creative and sustainable city. This is a complex, ambitious and fun experiment.
---
Aims and Objectives
1. To situate and explore design within a broader socio-­ecological context.
2. To collaborate with a multi-­disciplined team of stakeholders.
3. To utilize and evolve metadesign tools and processes.
4. To encourage and reveal creative synergies in the team's collaborative work.
5. To co-­design seeds (i.e. prototypes/ concepts/ scenarios) for creative temporary pop-­up enterprises.
To satisfy the aims of this project, the students will utilize metadesign tools and processes that are derived from management theory, gestalt psychology, future studies and traditional story-telling; as well as exploring different mediums for reading, visualising, mapping, modeling and prototyping context-led design solutions. The students will work together in teams throughout the project. The workshops will be co-facilitated by metadesign experts from Regents College, London and Goldsmiths, University of London.
---
Project Deliverables
1. Students will individually produce a process journal over the course of the SRVD project, capturing the information generated throughout the project, including reflections on the collaborative experience and materials produced in the workshops.
2. The students will collectively produce a set of metadesign diversity-mapping tool cards.
3. We will use time-lapse photography to document the metadesign process, which will be compiled as a series of short film sequences.
4. The students will produce futures scenarios for the space.
5. The teams will collectively develop and present their outcomes at the end of the first week.
---