Wisdom and the Thermostat
Can we apply metadesigning principles to the design of thermostatic systems?
---
---
Current events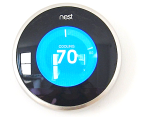 A thermostat by NEST
There are around 44 million programmable thermostats in the USA but, over the last three or four decades, the dominant companies (e.g. Johnson, Honeywell) have been challenged by Apple engineers Tony Fadell and Matt Rogers (most famous for the iPOD & iPAD). In 2011, Nest Labs launched their wi-fi connected, 'learning' thermostat. In 2013, they followed up with a smoke and carbon monoxide detector that interconnects with it. At the time of writing a burglar alarm has yet to be announced, but it is clear that the Nest business strategy is heading towards an increasing number of inter-connected products and services for the home, and elsewhere. Not surprisingly, Google acquired Nest Labs (January 2014) for $3.2bn.
---
The metadesigners mission is driven by the ecological agenda (addressing climate change, biodiversity depletions, etc).
It reflects the need for comprehensive, radical changes to the way the world works

(including economics, semantics, food production, mobility, employment, technology, etc.).

Achieving a paradigm change means challenging everything at all levels

this include habits, language & thinking behind what we all see as 'normal'.

Rather than seeking to improve individual gadgets and 'fixes' within a whole system, our metadesign approach aims to be more systemic.
We therefore admire thinkers such as Richard Buckminster Fuller and Donella Meadows.
As designers and engineers are important contributors to the 'success' of a stridently 'growth-centred' and 'GDP-audited' economic system, our own practices must be included in the challenge.
This means evaluating, adapting, modifying, ejecting and, or, integrating existing technical solutions with a range of alternative forms of design thinking, working and experiencing.
It means encouraging 'catalysts of change' to re-invent possibilities via language using a relational approach.
Where conventional approaches usually focus on his approach means seeking helpful synergies that may emerge by combining existing resources in the right way.
Nest exemplifies some of these principles, especially where it looks at technical benefits in a comprehensive way that fits into a larger social/commercial strategy: e.g.
To find, develop and exploit multiple synergies between existing and future possible products and services in the home, such as:

a. Online connection to the internet
b. Heating thermostat
c. Smoke/CO2 detector
d. Local meterological office online weather data
e. Patterns of consumer habits
f. Burglar alarm (not yet announced). Etc.
Relevant Metadesigners Texts
---
Nest's Business strategy
As with other distinctively 'Apple-style' products, the NEST's success is based on a combinatorial approach.
In this case, it requires a sophisticated blend of expertise from different professions:

a. Cunning lawyers (to defeat hostile competitors)
b. Quality engineering hardware (not cheap, but dependable)
c. Inspired by Apple's 'user-friendly' (intuitive) interface design.
d. Attractive packaging, branding etc.
e. Regular product improvements via automatic (online) updating of the software system.
f. Longstanding poor quality of their (big household name) competitors
g. Dependable product matched by familiar, confident brand values etc.

At the centre of this strategy is the notion of UCD (User Centred Design).
Initially, this began as a way to democratise hi-tech gadgets. More recently, however, it can also be seen as a key element within a marketing strategy.
Although UCD may be better than 'designer-centred', or technocentric approaches, it raises important issues about Nature and community:
---
Beyond commercial surveillance

While this thermostat is a practical way to enhance energy efficiencies, it could also be put to use as a personal data-producing machines for targeting and tagging customers, increasing the numbers of sales and maximising the profits of individual corporations and national governments .
Alternatively, if a network of managed locally, by alert and community-minded citizens, the connectedness between the respective gadgets might be harnessed to help regulate and optimise wellbeing within local communities.
---
A big and complex mission
Catalysing paradigm change includes inviting technical specialists to develop and share long-term visions.
It may also mean developing better forms of reasoning.
Today's economy-driven mindset sees little value in balancing (for example) 'growth' and 'decay', or 'ecology' and 'economy'.
It juxtaposes several contradictory beliefs:

The free-market is the prime mover (rather than Nature) that delivers resources needed to sustain society.
If a consumer pays for energy s/he is entitled to burn it any way s/he wishes.
All consumers have a basic human right to be comfortable.
We should reduce our carbon footprint, but it's not 'realistic' right now.
Today's consumer cannot be trusted to conserve energy resources.
Automatic regulation via gadgets conserves energy better than human agency.
---
Putting the domestic thermostat into perspective
| | | |
| --- | --- | --- |
| | | In reducing carbon emissions and waste, thermostats can play an important role, but this may not be the primary issue. By building to Passive House standards and introducing appropriate renewable energy technologies it may be possible to reduce the need for fossil fuels altogether. This may change the design parameters for building smart, wi-fi connected devices in the home. The fact that some technologies are being developed for Open Design construction offers an important benefit for the emergence of lively communities that draw minimum resources from the State, and that are self-managing and resilient. |
---
See more specific observations
Return to home