UNFINISHED PAGE IN PRGRESS
SYNERGY
(see other entries from our Glossary).
SYNERGY:
when combinations make for more/better outcomes than (some/all of) their ingredients.
A DEFINITION:
"
The behaviour of whole systems unpredicted by the separately observed behaviours of their parts taken separately
" (
Bucky Fuller
)
WHAT TO LOOK FOR
a) When things just go together in the cool sense
b) Imaginable, desirable synergies that do not yet exist.
c) Things that are complementary to one another (i.e. known compatibilities).
d) Relative balance of ingredients to create affinities (e.g. precise culinary compatibilities).
e) Synergistic relations that exist, but that can produce additional benefits.
f) Possible synergies that do not yet exist, and that may emerge from experiment.
g) Existing synergies that derive from a combination of other synergies.
h) New synergies that might emerge by combining existing synergies.
---
| | |
| --- | --- |
| HELPFUL TERMS | comments |
| Combination | Sounds simple, but things combine in very particular ways |
| Abundance | Does not necessarily mean high in 'quantity' |
| Surprise | All synergies are unpredictable from their ingredients |
| Difference--------- | (useful synergy is seldom produced by combining similars) |
| Diversity | (A set or collection of 'differences') |
| Precision | (e.g. the best cuisine often depends on extremely subtle measures) |
| Timing | (sometimes it matters WHEN you do something) |
| Ma | Japanese word which suggests 'timing with placing') |
| Synchronicity | (When things work together with 'Ma') |
| Serendipity | (Some people seem luckier than others, but we can learn this) |
| Complexity | (it is hard to work with simple, isolated things - things get entangled) |
| Meanings | (our behaviour is governed by habits, beliefs and words in our language) |
| Permeability | (synergies migrate into moods, atmospheres, concepts & relations) |
What is it?
Why is it important?

NATURE'S FREE GIFT: Our prevailing belief system tends to see the world as a set of finite resources that are running out. This idea derives from classical physics, which envisioned the world as a kind of clockwork system that will eventually unwind to a zero state. On the other hand, the life sciences since Darwin (e.g. biology and ecology, etc.) showed that living systems defy entropy and create emergent forms of abundance. Synergy is an abundance that we get by combining things. One example would be 'symbiosis', but there are many others that work across the boundaries of materials, energies, ideas, values and meanings.

The TEDx talk (above) explains more.
(See YouTube version)
---
OUR SUGGESTION:
Amassing more and more of the same thing in order to create
abundance
is not the best way to achieve durable prosperity. Staying alive and living well means combining
different
things at the right time, and in the right way.
SOME EXAMPLES
2. SYNERGIES WITHIN FORMS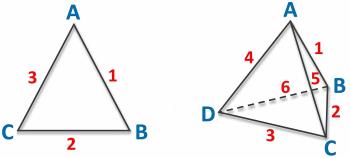 When triangles are combined together they create the strongest structures because there are synergies that align compressions, tensions, angles and edges, etc. This is what makes a triangle stronger than a square, and a tetrahedron stronger than a cube.
3. SYNERGIZING FORM AND MATERIAL
Synergies are highly abundant and are often found to be nested (or synergised) with other synergies. The bicycle is a great example. As stainless steel has an enormous tensile strength, bicycle spokes are much lighter than wooden waggon wheel spokes that are designed to work under compression. Indeed, bicycle wheels can carry up to 700 times their own weight.
4. MANY SYNERGIES-OF-SYNERGIES
Bicycles are a clever combination of synergies. For example, bicycle spokes use the extra 'tension-strength' of stainless steel, which is far stronger than its strength 'in compression'. Each synergy may have more than one property (most stainless steels last far longer than ordinary steels because they do not rust).
3. ACHIEVING NEW QUALITIES
Further Reading
---
---
Return to glossary