TUFF Climate Workshop Planning Meeting 6
17th August 2018 in Hexagon Room, Lockwood Building, Goldsmiths University of London
For MA Design students and honoured guests
PRESENT: ... | ...
To find effective ways
and/or responses / strategies / solutions
to stop
and/or reduce / mitigate / adapt to / cope with
climate change
and/or global warming / ecocide
by (re-)inventing methodologies
and/or practices / habits / assumptions
that inspire
and/or orchestrate / guide / lead to / inform
others
and/or trend shapers / steerers / elucidators
to act
and/or become more active / do something
wisely
and/or effectively / appropriately / helpfully
and promptly
and/or thoughtfully / respectfully / rewardingly
.
Creative Quartets Workshop
Tanishaa facilitated a practical workshop. Teams of participants will use some
metadesign methods
, such as
bisociation
in pairs using a
creative quartets
approach. This is intended to create a great number of opportunities that derive from the key habits, problems and assets known to the individuals within our whole team. Why a quartet (i.e. 4 participants), rather than, say a trio or a quintet? This can be explained by showing the
tetrahedron
. If participants feel confused by 3D geometrical forms, the
glass clinking tool
may be a useful exercise.
Setting up Creative Quartets Sessions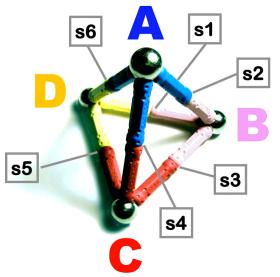 Guidelines for Participants
REMEMBER - QUANTITY IS MORE VALUABLE THAN QUALITY

The essential aim of this workshop is to create MORE opportunities than we can currently see.
This means generating as many ideas as possible (not the highest quality of ideas).
When we have an idea we may not be able to see its potential value until much later.
For most of us, this may mean switching off our 'quality control' filters when we think of something.

BALANCE SPEAKING WITH LISTENING

Please accept that, within the workshop, you no less important and creative as the person with whom you are currently working
It follows that your partner has a duty of respect to you - i.e. he/she should give you a fair chance to speak.
It follows that your partner needs to listen to what you say in a spirit of openness.

BALANCE LISTENING WITH SPEAKING

Please accept that, within the workshop, you are no more important and creative as the person with whom you are currently working
It follows that you have a duty of respect to partner - i.e. you should give him/her a fair chance to speak.
It follows that you need to listen to what he/she says in a spirit of openness.
If required, the Shared Values Tool may be helpful...

LET OTHERS SAY WHAT YOU MAY NOT LIKE / UNDERSTAND

Accept that you have biases, experiences and prejudices that you may not be able to see.
Accept that this blind spot will have limited your ability to see things that others can see.

BE RADICALLY OPTIMISTIC

Ideally, workshop participants must leave their analytical and critical faculties at the door.
There is no place for sharing thoughts that are pessimistic, cautious, sceptical, sarcastic, cynical or negative.
Try to be radically optimistic, even if a given idea seems unlikely to be useful.
For some, this may be exceedingly hard, especially if they have worked in industry for some time, or have been educated to believe in rational analysis, rigorous logic and robust debate.

BE CREATIVELY FEARLESS

If you believe that something is impossible you may not bother to spend time on it.
Our Designing Miracles tool challenges misconceptions about 'unthinkability' and 'impossibility'.
The fear that others may say you are crazy or wrong is an effective barrier to innovation.
Remember that today's world is full of amazing things that may have seemed impossible, yesterday.
for those who feel insecure about their ability to be 'creative' see 4 levels of courage .
A familiar tool used in the commercial world is SWOT analysis
50% of the 4 terms (Strengths, Weaknesses, Opportunities & Threats) are meant to instil some (healthy) fear.
But fear is likely to diminish a team's creative abilities.
We therefore devised the POUT tool

AVOID USING WORDS, SUCH AS 'BUT', or 'HOWEVER'

Critical observations or negative comments are useful, but not for the Creative Quartets workshop.
In previous research meetings we actually banned the word but (which sometimes caused laughter).
In creative collaboration, the word 'but' is likely to slow down the whole process of discovery.
This is because it moves the conversation from a search for ideas and begins to focus on the conversation etc.
In short, it raises a succession of questions that delay the discovery of something that will work.

TURN NEGATIVE THOUGHTS INTO 'OPPORTUNITY-FINDING' QUESTIONS

Where you encounter criticism, or observations
If your partner makes a negative statement or comment, don't confront it (this becomes a debate).
Ask him or her what they are proposing
and/or - get them to convert their idea into a positive vision
and/or - turn their comment into a task
and/or - log it as a useful mission.
and/or - frame it as an opportunity-finding question (e.g. "how can...X be achieved?)
N.B. - you are more likely to find opportunities by framing outcome-seeking questions than from asking answer-seeking questions.
See booklist