Tool no. 38 - Tripling a Win-Win
one of the Metadesign Tools devised in 2007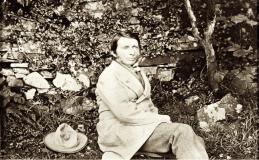 John Ruskin in 1873

Richard Buckminster Fuller in 1917
Why These Numbers?
Tripling a 'win-win' situation can be expressed numerically as 3 X 2
Let us examine some issues behind this simple mathematical statement.
Most people tend to think it reasonable to start counting from 1.
This has been endorsed by the western assumptions behind individualism.
This may be why 'self-interest' (c.f Adam Smith) is usually seen as referring to individuals, rather than their community.
However, Buckminster Fuller reminds us that unity is plural and, at minimum, two.
This is because things spin, and/or operate on a reciprocal (e.g. symbiotic) basis.
But, even when we think of symbiosis, we tend to visualise individual winner/s.
Invention is also seen as a singular (often 'disruptive') act that is disconnected from its adjacent/rival processes.
The 'win-win' (1:1) equation is a better prototype but it is not productive enough for the post-carbon economy.
Tripling the win-win means starting with 2 pairs (i.e. winner1:winner2 and winner3:winner4).
When this happens, the number of synergies are tripled (see tetrahedral logic) - also explains the cognitive factors.
See also our notions of 4-Way Innovation and 4-Way Ethics.
The Tool's Process
Choose four possible stake-holders or beneficiaries who are already mutually associated.
Alternatively, represent their interests by proxy (role-play), using 4 problem-solving experts.
Ask them all to work as a team, to brainstorm their respective needs in a relevant context.
Ask them to think of a single innovation that would (appear to) deliver welcome benefits to each.
Continue this exercise until each individual player feels that s/he has become a 'winner'.
Ask them whether the benefits of others adds to, subtracts from, or is neutral to their own pleasure.
Once the benefits are made visible list them and try to integrate them into a clear product identity.
Give the product a celebratory name that also reflects some (or all) of these benefits.
The Tool's Purpose
This tool challenges the received idea that devising one-off benefits is enough.
It is intended to find, develop, offer and to highlight multiple benefits from a single innovation.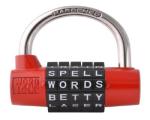 (courtesy of WordLock Inc.
Some see combination locks as a 'win-lose' situation that is determined by entering the 'right' or 'wrong' combination.
They see its 'solution' as a sequence of (4) numbers, rather than a set of (6) relations.
We could also see it as 4 interdependent beneficiaries (i.e. A-B-C-D) whose respective roles contribute to a shared outcome (X)
How can metadesigners find a more positive (e.g. less problem-oriented) way to create and present their work?
This tool calls for a highly-motivated, innovative approach by an individual, or team of creatives.
It is a high-return tool but, because of its complexity, may be very difficult to use successfully.
The Tool's Context
Although we tend to think in separate 'boxes' - e.g. economics, environment, social, etc. - everything is related.
This is useful for highly resourceful design thinkers, who may be able to reconcile many 'boxes' simultaneously.
For example, with enough imagination, many problems at one level can be reframed as opportunities at another.
As Buckminster Fuller once said: "The people who let the sulphur go into the air are not in the sulphur business"
Psychologically speaking, Adam Smith's (1776) idea of the invisible hand suggests a 'win-win' offer.
By contrast, the idea of 'environmental sustainability' seems to offer a 'lose-win' scenario.
By synergising many small benefits in a well-designed process we could overcome this problem.
The 4-Way Thinking Tool explains how the human mind likes to see benefits in identifiable 'chunks'.

This topological idea can be interpreted to mean that 2 players achieve 'win-win' by virtue of 1 common synergy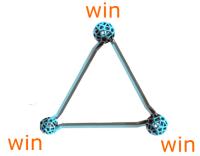 When there are 3 players, this implies 3 common synergies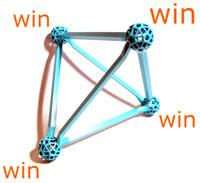 With 4 players there can be six (possible) shared synergies -i.e. triple that of a 'win-win' situation.
An Example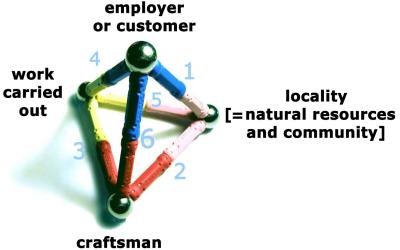 Clustering appropriate benefits for familiar stakeholders can (seem to) deliver an emergent dividend
N.B. This model is inspired by John Ruskin's ecological context for craftsmanship.
Acknowledgements
JW thinks it's his idea, but awaits contradiction by other members of m21.
Bibliography
Wood, J., (2008), Auspicious Reasoning; can metadesign become a mode of governance? An article for the Journal of Writing in Creative Practice, Published by Intellect Books, Intellect Journals, Art and Design. Volume 1, Issue 3. ISSN 1753-5190. Co-editors Julia Lockheart & John Wood, July 08.
Wood, J., (2007), 'Relative Abundance, a chapter for 'Designers, Visionaries and Other Stories: A collection of sustainable design essays', (eds. Jonathan Chapman & Nick Gant), book, Earthscan, (August 2007)
Wood, J., (2007), 'Triple Win-Win: synergy tools for metadesigners', a chapter for 'Designing for the 21st Century' book, (ed. Tom Inns) Gower Publishing, (2007)
Links