Metadesigning Futures
Some Workshops & Talks Celebrating 20 years of Research into Metadesign
Bargehouse, Oxo Tower. London, SE1 9PH | Sunday 18th September, 4.00pm - 6:30pm, 2016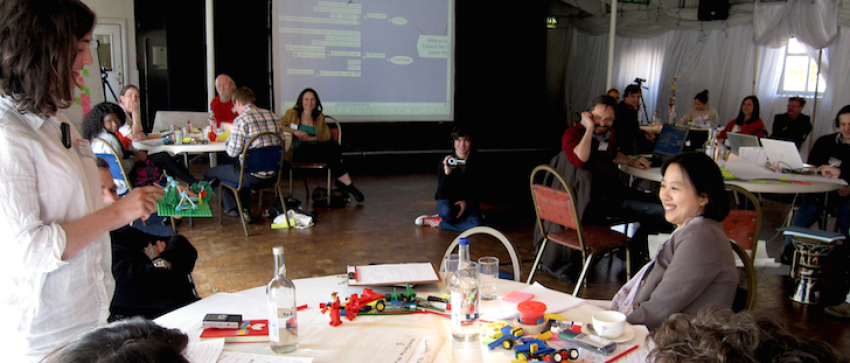 A previous Metadesigners workshop in 2010
LONG-TERM VISION
This two and a half-hour event asked how design thinkers can create future economies and communities that enable us to survive in the era of mass extinctions and climatic changes. It also raises specific questions about the way creativity is harnessed in the world, and how designers can play a more effective role in change.
20 YEARS OF DESIGN THINKING
Why do many companies still invent and innovate at the level of products and services, when what is killing us is the same old lifestyle habits and business models? By reflecting upon – and celebrating – several decades of research in the Department of Design at Goldsmiths, University of London, the organizers will invite participants to join them in playful speculation about possible futures. This is an open event that aims to be informative, collaborative and fun.
KEY CONCEPTS & PRACTICAL OUTCOMES
The 'Metadesigning Futures' afternoon will investigate a few key concepts (e.g. 'metadesign', 'design futures', 'languaging' and 'synergies-of-synergies') in order to explain how we used these ideas to shape ground-breaking initiatives in both commercial and academic fields, over the last twenty years. These will be interspersed with collaborative exercises, games and workshops.
ATTENDANCE
There was a mixture of experts, including graduates of the MA Design Futures programme at Goldsmiths, since. It also included researchers, lecturers, graduates and visitors who have developed and/or applied aspects of metadesign to their work.
WORKSHOPS & BRIEF TALKS
4.00 - 4.20pm
Introduction to Design Futures & Metadesign
Prof. John Wood
4.20 - 4.50pm
Bisociating New Futures
Prof. Mathilda Tham & Anette Lundebye
4.50 - 5.00pm
Questions + discussion
Dr. Julia Lockheart
5.00 - 5.30pm
Creative Quartets
Prof. John Wood & John Backwell
5.30 - 5.40pm
Questions + discussion
Prof. Mathilda Tham
5.40 - 6.10pm
Co-authoring as a Design Futuring Tool
Dr. Julia Lockheart
6.10 - 6.20pm
Questions + discussion
John Backwell
6.20 - 6.30pm
Key metadesign questions for the future
Panel Discussion
6.30 - 6.35pm
Close / Thanks / Off to the pub
FOR FURTHER INFORMATON
Contact:
| | |
| --- | --- |
| Dr. Hannah Jones | hannah@dschool.stanford.edu |
| Dr. Julia Lockheart | j.lockheart@gold.ac.uk |
| Website: | http://metadesigners.org/home |
---
return to other workshops