Opportunity-Seeking Teams
some notes and ideas for organising creative workshops



Size-to-Diversity Ratio
A number of thinkers have asserted that ideas derive from the combination of different entities.
NOTE TAKING
It is useful to keep verbatim notes of ideas when spoken.
When we rely on memory along, ideas can be lost, overlooked, forgotten or misinterpreted.

E.g. they may lack the nuanced understanding or bigger context behind them.

By working in small teams, these tendencies can be applied in a positive and opportunistic way.
By designing appropriate observer roles we can amplify and/or augment the ideas put forward.

E.g. in a meeting of 4 people, each participant can expect 3 versions of their idea as feedback.
This may show her/him that s/he failed to communicate as intended.
And/or it may help him/her to clarify the original idea in her/his own mind.
And/or the feedback may inspire modified version/s that are (more) useful in their own right.
And/or it may produce laughter or innovative ideas (c.f. bisociation).
A Possible 'Quartet' Format
Session format would seek to assign (equal?) focus on each of 4 concerns:
4 Recording Modes
The 4 Headings are designed to be memorable and adaptable.
4 notation channels are open simultaneously and synchronised on the timeline of the meeting.
Any note taker can switch from one channel mode to another
In theory, there could be just 1 or 2 note takers, although 4 would be better.
If they work, they will encourage a fair and
.
MAKES NOTES ON:
PURPOSE

HEAD

Fact / Logic / Data

Veracity / Orthodoxy / Clarity

HAND

Body language

Skills of making & doing

HEART

Atmosphere / Mood Change

Collective Wisdom

HUMOUR

Ambiguity / Contradiction

Heresy / Fun / New Opportunities
The 4H Quartet
HEAD

It is useful to keep verbatim notes of ideas when spoken. These

HAND

In previous workshops we employed observers who were trained to use Rudolf Laban's dance notation to record body language.

HEART

HUMOUR

It also calls for attuning oneself to Luck
The Wise Fool Tool reminds us that knowledge/experience can blind you to new experiences
Some elements within a team need to be Radically Open to seemingly impossible events.
Some team members have a higher Ambiguity Tolerance than others.
A Journey Format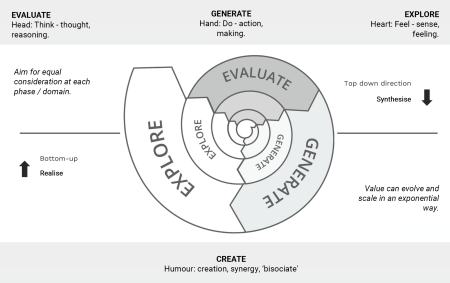 A Possible 'Quartet' Format
Session format would seek to assign (equal?) focus on each of 4 concerns:
Each session might follow an iterating series of stages (e.g. the 'hero' journey has 3 or 4 stages)
Some thinking around a possible session format:
Begin with framing the area we are dealing with (head)
Ideas, models, frameworks currently used to address those (hand)
Sharing, stories, connecting on the topic (heart)
Learnings from Metadesign perspective (humour)
Meetings
The mathematics of holarchic teams, a shows us that ahigher level of responsibility falls upon each individual.
In the era of the current pandemic, most meetings would usually be held online.
Their purpose would normally serve one or both of the following purposes:

Instructional - to update newcomers, or outsiders with existing metadesign tools and methods
Generative - to develop existing tools and methods, also to introduce or come up with new ideas.

Generative Meetings will normally comprise a minimum of 4 and a maximum 12 active participants
---