Living Buildings
John's keynote talk and Dean's lecture for the CAADRIA 20016 conference at the University of Melbourne, March 30th - April 2nd.
ABSTRACT
Could future Building Information Modelling (i.e. BIM) systems make future buildings come to life? By regarding buildings as inanimate, we accept them as fundamentally dissipative (i.e. the idea of 'conserving' buildings reflects the pessimistic logic of classical thermodynamics). By contrast, the life sciences depict living creatures as systems that maintain their collective survival by resisting entropy. Thermostats and clocks are the dumbest gadgets on the planet because they ignore their own role and context. If BIM files were to be interactively updated by the metabolic states of a given building, this might help it to be conscious enough to match its own presence with its effects on others. Perhaps it would then share tasks with its inhabitants, on a symbiotic basis.

Does Design Thinking Need a Relational Grammar?
John's talk at the DESIS Design Lab, Royal Melbourne Institute of Technology, 22nd March, 4-5pm
ABSTRACT My 'Relational Learning Tool' challenges assumptions about the purpose of writing within the academy. By putting the creative's predicament into a dynamic, 3D format, rather than a fixed and linear 2D form it offers a self-reflexive tool that encourages the creative to map out her situation much more contingently and responsibly. It also makes plagiarism virtually impossible.

Thinking Outside the (Innovation) Box
John's talk at the Centre for Design Innovation, Swinburne University of Technology, Melbourne, Thursday, 31 March 2016
ABSTRACT - If Nature doesn't do 'problem-solving' or recognise 'genius', does the genre of invention needs re-inventing? Living systems evolve by re-combining existing resources to create multiple opportunities. My 'relational innovation' tool applies this principle in both commercial and educational settings.
MORE TALKS IN SYDNEY TO BE ANNOUNCED SOON


Ongoing Developments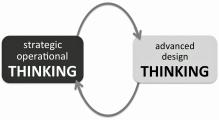 CreativePublics - working for companies and communities.
---
TO GAIN FULL ACCESS TO THIS WEBSITE YOU WILL NEED TO LOG IN